The Himalayan region of Nepal contains spectacular arrays of peaks over seven thousand meters high, including Mount Everest, the highest mountain is the world. The Sherpa people, who inhabit the rugged but beautiful valleys below, are known for their hospitality and unique Buddhist culture. The region has seen immense improvement after the arrival of trekkers and mountaineers. It now has airports, hospitals, schools and electricity. Yet there are still no drivable roads in the region. In addition, the schools are not properly staffed with experienced teachers and many Sherpa families prefer to send their children to schools in Kathmandu. Many poor families cannot afford this option.
When you volunteer in Himalayan region of Nepal, you will work to strengthen the educational system in the region and make the local children realize their full potential. The local community will also enthusiastically welcome you and your work will be greatly appreciated.
get more information
Fees and Dates
Start Dates:
All volunteer programs start on the first and third Monday of each month.
If you are tired of expensive volunteer programs but want to make a positive contribution in the world, look no further! Rustic is dedicated to offering high quality, well-organized and meaningful programs at the most affordable price in the United States. We work hard to keep costs as low as possible, focusing on the effectiveness of our projects, the safety of our volunteers and the quality of participant experiences. We currently offer the most competitive price possible in today's market including an application fee (of $299) AND a small weekly fee as follows:
| | | | | | | | | | | | |
| --- | --- | --- | --- | --- | --- | --- | --- | --- | --- | --- | --- |
| 1 Week | 2 Wks | 3 Wks | 4 Wks | 5 Wks | 6 Wks | 7 Wks | 8 Wks | 9 Wks | 10 Wks | 11 Wks | 12 Wks |
| $350 | $500 | $650 | $800 | $950 | $1100 | $1250 | $1400 | $1550 | $1700 | $1850 | $2000 |
Airport pickup, drop and first accomodation $50
Fly to Himalaya (Lukla) $330 (depends on season)
Mandatory Comprehensive Travel Insurance $3.49/day
Language and Culture Program fee $250
Program fee covers

Accommodation
3 meals a day
Donation to project
In-country office expenses
Field support
Project coordination
Emergency support
Airport welcome

Program fee does not cover

International flights
Passport and visa fees
Immunizations
Personal food and beverages
Entertainment
Local transportation
Laundry
Communication (telephone, internet)
Personal items
get more information
Volunteer Programs in India Himalaya
Teaching English to Buddhist Monks
People from the Sherpa community become monks at a young age and they gain a deep knowledge of scriptures and meditation while at the monastery. At present, English is not in the curriculum but the monastery has now realized the importance of the subject to their young monks. Learning English will allow the monks to work as guides or to start their own business later in life. Those who prefer to stay on as a monk can use their English language skills to communicate effectively with outsiders and help their monastery. Currently, there are no resident English teachers and volunteers are in great demand. While volunteering, you can also witness colorful rituals inside the monastery and participate in meditation and other ceremonies.
Monk Teaching is not available from the Last week of December to First week of March
Project/Volunteer's Life
As a volunteer in Nepal teaching English to Buddhist monks in a monastery, you will primarily work as English instructors to the monks. You'll teach English to monks for 2-4 hours a day. You are encouraged to hold discussions and debates as this will greatly increase the ability grasp and speak English. Daily activities may include:
Teaching English grammar, vocabulary and pronunciation
Planning lessons and curriculum development
Leading classes to teach basic conversational English
Organizing extracurricular activities such as dancing, games, music, sports, art, etc.
Helping monks with their homework
Assisting monastery administrations
Fundraising for the monastery
Helping around the monastery
Note: in addition to teaching, you'll also be allowed to sit, observe and learn about the rituals, prayer ceremonies and meditations inside the monastery and learn about Buddhism from the monks.
Skills and Qualification
No teaching experience or skills are required, but each volunteer in the teaching English to Buddhist monks project in Nepal should have strong English skills, both written and verbal. You should also respect the monks at all times as well as the prevailing culture inside and outside the monastery.
Teaching English in Local School
The schools in the Everest region, like anywhere in Nepal, want their students to be able to speak and write English. But many fail to do so. English is one of the hardest subjects for students and many regularly fail. The reasons for this are manifold. Firstly, English is taught in Nepali. The teachers do not speak to their students in English, or very few do, and secondly, the students are taught to memorize words and phrases, rather than understand the language. The students do not practice speaking English with anyone else. What they learn in the classroom stays in the classroom. In this environment, an international volunteer who speaks only in English will help the kids immensely. You will not only encourage students to speak in English, you will also help them to comprehend the language. Our experience shows this will instill confidence in the students and motivate them to learn even more. While working, you will find the teachers and the parents extremely appreciative of your effort and you will go home with life changing experiences and memories.
School teaching project is not available from last week of December to first week of February
The school is also be closed during Dasai and Tihar holidays (usually in October)
Project/Volunteer's Life
As a volunteer teaching English in Nepal, you will most likely teach in a government school. Besides following the official curriculum, you're encouraged to hold debates and discussions as well as engage the children in creative activities that will increase their capacity to comprehend and speak in English. Daily activities may include:
Teaching basic English to the children
Teaching other subjects such as math or science
Playing with the children
Organizing extracurricular activities such as music, dancing, sports, art, games, etc.
Teaching life skills such as painting, sewing, cooking, etc.
Promoting nutrition and health
Helping to fundraise for schools
Working on curriculum development
Assisting school administrations with daily tasks
Helping with basic maintenance of schools
Aiding local school staff in any way possible
*if school is closed, volunteers will work in orphnages
Skills and Qualification
You should be fluent in English, both spoken and written, although you may be a non-native English speaker. You should also have a passion to teach and help your students. Volunteers should be good role models, flexible, patient, caring, creative, responsible and open-minded.
Meals/Accommodations
Rustic Volunteer arranges volunteer meals, accommodations and strong field supervision for the duration of projects and optional travel packages. In Nepal, most volunteers stay with a host family. Host family accommodations are simple and clean homes in safe neighborhoods. Volunteers usually have a private bedroom, but occasionally rooms will be shared with a same-gender volunteer. Our host families are well screened and are respected members of their communities who live in affluent neighborhoods. Most of our host families have experience with hosting international volunteers. Host family stays are a great chance for cultural immersion and exchange.
Accommodations could also be with a home base or a hostel. Our home base is a permanent home established for our volunteers in Kathmandu. Our home base in Nepal is located in a very safe and clean neighborhood. There are internet cafés, restaurants, local bus stations, a police station and supermarkets near our home base. The home base provides a comfortable place to relax after a long day. There are several bedrooms (which may be shared with a same-gender volunteer) and community areas. There is a shared kitchen, television and shared bathrooms, which have running water and "western-style" toilets. Hostels are located in safe and secure neighborhoods and are chosen for their proximity to projects.
Volunteers receive three local meals per day (breakfast, lunch and dinner). We can provide vegetarian meal options, but needs must be detailed in a volunteer's application. Snacks and beverages outside of mealtimes are not provided; however, there are local restaurants and grocery stores near the residences in which we place volunteers.
Rustic offers unparalleled field support to volunteers to ensure a safe and rewarding experience. There are many layers of support for you. The most important support comes from our country coordinator/field staff. The secondary support comes from the host project staff and members of host families and/or a home base staff. Volunteers will have access to our country coordinator's mobile number and they are available 24/7. Throughout the volunteer project, our local staff stays in contact with volunteers either with face-to-face visits or via email/telephone. Our field staff will visit regularly (every 2-4 weeks) to make sure things are going well and as planned. However, if placement is far from our local offices, staff members will stay in touch via email/ phone. Volunteers are also welcome to stop in the offices at any time.
Specific details regarding accommodations, food and contact details for our local coordinator will be provided in personalized volunteer placement documentation prior to arrival.
get more information
Project Locations: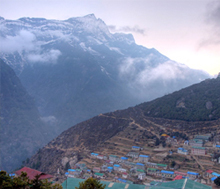 Rustic Volunteer projects are available in Kathmandu (capital city of Nepal with places of great tourist attractions like Thamel, Patan, Swaymbhu, etc.), and Pokhara (a small valley that is famous for lakes, spectacular views of Himalayas and for a starting point of many famous treks). Both the towns have shops, banks & internet cafes nearby. Nepal is renowned for its spectacular landscape and deep, exotic culture. It's full of contrasts: from traditional culture and history including houses made of bamboo, mud and cow-dung to modern infrastructure and much of the amenities you would expect from a city.
Major FAQs - Nepal
Application Process
Arrival Information
Visa
Health & Safety

Volunteers should be aware of all health and safety information before traveling to Nepal. We suggest you visit some of the websites listed below.

General Health Tips for volunteer/travel in Nepal

Avoid drinking tap water directly. Do not also drink fountain drinks and ice cubes. Always drink bottled, boiled water or carbonated drinks in cans or bottles.
There have been cases of many fake bottled waters being sold in Nepal. They don't stand up to the standards. When you buy bottled water from stores, make sure the seal of the bottle isn't tampered with.
Do not eat hot or very spicy food. They can create stomach upset. Stay away from salads also as leaves not cleaned properly can contain tiny bugs unseen to eyes. Eat from good, clean restaurants and don't try your luck with roadside vendors.
Always use an insect repellent if you find yourself in a mosquito-prone area.
If traveling in scorching heat, remember to drink enough water, use hats, sunglasses & UV lotions. Beware of the health effects that the mid day sun may cause, most importantly SUN BURN or DEHYDRATION.
If you need doctor, ask your host family, hotel or our country coordinator. You'll find plenty of helping hand. Most of the towns and villages in Nepal have pharmacies and chemists, if you want to purchase any medical supplies. The medication and the fees for the doctors are usually low.
Bring drugs you require with you. Although you can find most modern medicines in the drugstores of Nepal, they can be named differently and come with different level of dosage. Carry a health kit and include medications for upset stomachs, some antiseptic cream, mosquito repellant, sun block, band aids, etc.

Vaccination
Money Matter
Communication
Climate of Nepal
Materials to Bring
Gift for Host Family and Project
get more information