Go beyond your borders and volunteer in Nepal to expand horizons for both you and for those you help! Nepal is a perfect destination to volunteer and travel. With picturesque mountainous views of the Himalayas, colorful festivals and diverse flora and fauna, you will surely have the experience of a lifetime. For mountain lovers, Nepal boasts eight out of ten of the highest mountains in the world. Nepal also has a remarkable number of ethnic groups who have settled and created a kaleidoscope of fascinating cultures. As a volunteer in Nepal, you will be able to immerse yourself in these unique and enchanting cultures, enjoy breathtaking panoramic views and ultimately, enrich the lives of others.
Rustic Volunteer is focused on enriching the lives of impoverished Nepalese by partnering with a variety of local schools, orphanages, clinics, non-profit organizations, hospitals and monasteries. Regardless of your individual skills and interests, there is a project for everyone. Volunteer in Nepal and gain professional experience while growing personally and helping Nepalese.
If you're looking for an adventurous and rewarding experience in Nepal, contact us now for more information! You're only an email away from beginning one of the most unforgettable journeys of a lifetime.
get more information
Fees and Dates
Start Dates:
All volunteer programs start on the first and third Monday of each month.
If you are tired of expensive volunteer programs but want to make a positive contribution in the world, look no further! Rustic is dedicated to offering high quality, well-organized and meaningful programs at the most affordable price in the United States. We work hard to keep costs as low as possible, focusing on the effectiveness of our projects, the safety of our volunteers and the quality of participant experiences. We currently offer the most competitive price possible in today's market including an application fee (of $299) AND a small weekly fee as follows:
Weeks
Kathmandu/Chitwan
Orphanage/ School/
Nature Conservation
Kathmandu/Chitwan
Medical
Kathmandu
Monastery
Kathmandu
Photo Journalism
1 Week
$100
$185
$175
$225
2 Weeks
$200
$260
$295
$400
3 Weeks
$300
$385
$415
$575
4 Weeks
$400
$460
$535
$750
5 Weeks
$500
$585
$655
$925
6 Weeks
$600
$660
$760
$1,100
7 Weeks
$700
$785
$865
$1,275
8 Weeks
$800
$860
$970
$1,450
9 Weeks
$900
$985
$1,065
$1,625
10 Weeks
$1,000
$1,060
$1,160
$1,800
11 Weeks
$1,100
$1,185
$1,255
$1,975
12 Weeks
$1,200
$1,260
$1,350
$2,150
Mandatory Comprehensive Travel Insurance $3.49/day
Language and Culture Program fee $250
Program Fees Cover
Accommodation (volunteers house or host family)
Food (local food 3 times a day)
Airport pick up/Transfer
In-country support
Program Orientation
Personalized project
Pre-departure information
Certificate of completion
Fundraising ideas and letters
Discount for returning volunteers
Program Fees Exclude
Visas
Airfare
Personal expenses on soft drinks and foods
Daily transportation
Airport return transfer
get more information
Volunteer Programs in Nepal
Work in Orphanage(Kathmandu, Chitwan, Pokhara)
Due to rampant poverty and poor economic conditions, the Nepalese government is incapable of providing adequate assistance for orphaned children. As a result, many orphans lack basic necessities and the chance at the childhood they deserve. Many orphanages are doing their best to feed, house, clothe and educate these children, but sadly lack resources and are short staffed, making their job a daily challenge. As a volunteer in the orphanage project in Nepal, you can provide assistance to these orphanages and improve their quality of life. Through your support, you can help the orphanages bring education, friendship, basic care and smiles to the children. Travel to Nepal now and make a difference in the lives of these children, as well as your own!
Project/Volunteer's Life
As a volunteer/traveler in Nepal working in an orphanage, responsibilities will vary depending on individual skills and interests and the needs of the orphanage, but may include:
Teaching English (3-4 hours a day)
Teaching other subjects such as math, science, health, etc.
Helping home-schooled children in the orphanage
Assisting/educating children in areas of personal hygiene (i.e. brushing, flossing their teeth)
In the afternoons/evenings, organizing activities, games, sing-a-longs and dances as well as other creativity-based activities to teach the children
Helping children with homework
Observing academic progress
Playing with children
Helping orphanage staff with administrative tasks
Cleaning and helping children with daily chores
Helping to maintain orphanage garden
Cooking and helping local staff during meal times
Assisting local staff with fundraising and grant proposals
Skills and Qualification
There are no skills or qualifications required to volunteer in the orphanage project in Nepal. However, you should have a passion to help the children and be flexible, responsible, open minded, caring and patient.
Teaching English Project (Kathmandu, Chitwan, Pokhara)
In Nepal, without knowledge of the English language, there are low chances of admittance into respected universities or obtaining high-spaying jobs. For this reason, schools and parents are putting tremendous pressure on young ones to improve their English skills. Unfortunately, it is often unattainable for poorer children to improve their English skills because most public schools lack qualified teachers and resources to properly teach the language. Only high-income families can afford private lessons and/or quality education. Rustic Volunteer is attempting to open doors for poorer students and provide the children with the opportunity to learn from native or fluent English teachers. As a volunteer teaching English in Nepal, you will teach in schools in a low-income area and help children develop their English skills. Rustic Volunteer invites you to volunteer teaching English in Nepal now to immerse yourself into Nepalese culture and instantly brighten the futures for your students.
Project/Volunteer's Life
As a volunteer teaching English in Nepal, you will most likely teach in a government school. Besides following the official curriculum, you're encouraged to hold debates and discussions as well as engage the children in creative activities that will increase their capacity to comprehend and speak in English. Daily activities may include:
Teaching basic English to the children
Teaching other subjects such as math or science
Playing with the children
Organizing extracurricular activities such as music, dancing, sports, art, games, etc.
Teaching life skills such as painting, sewing, cooking, etc.
Promoting nutrition and health
Helping to fundraise for schools
Working on curriculum development
Assisting school administrations with daily tasks
Helping with basic maintenance of schools
Aiding local school staff in any way possible
*if school is closed, volunteers will work in orphnages
Skills and Qualification
You should be fluent in English, both spoken and written, although you may be a non-native English speaker. You should also have a passion to teach and help your students. Volunteers should be good role models, flexible, patient, caring, creative, responsible and open-minded.
Health Project (Kathmandu, Chitwan)
Though Nepal has made rapid strides at improving the healthcare of the country, the system is still short of desirable. In remote and poorer areas, many people have no access to healthcare and those with access receive substandard treatment. Unfortunately, there is an extreme lack of doctors, nurses and medical facilities and as a result, Nepal has one of the lowest life expectancy rates. In addition, many people suffer from preventable and treatable diseases. If you are a medically trained professional or a student, volunteer in the medical/healthcare project in Nepal and provide proper treatment to locals, drastically changing their lives for the better. This is the perfect project to gain international and professional experience while providing you and those you help with an enriching, productive and meaningful experience.
Project/Volunteer's Life
Each volunteer in Nepal working in the community health/medical project will have varying responsibilities and tasks and volunteer projects will depend on one's qualifications and certifications as a medical professional. Duties may include:
Helping with routine check-ups
Assisting in the lab
Helping patients with physical therapy
Working in rehabilitation centers
Providing basic first aid and care
Shadowing health workers, therapists, nurses or doctors
Working with organization administrations
Helping in the pharmacy
Recording patient details
Measuring vital signs such as blood pressure, height, weight
Distributing medicines
Assisting with medical procedures
Helping incoming patients
Performing and assist in the in-day emergency room
Partnering with local doctors
Qualified doctors can diagnose and treat patients
Skills and Qualification
Rustic Volunteers/travelers interested in joining the volunteer health program must possess a health care certification such as an ID as a medical student, EMT or paramedic certification, or nursing or physician's credentials. Medical volunteers without credentials are not allowed to work in this program because of the potential risk. The hospitals require a copy of your resume, clearly stating credentials and education before your arrival to the project.
Teaching Buddhist Monks (Kathmandu, Pokhara)
Due to winter activities, the monk teaching project is not available from the last week of December to 2nd week of February. Please confirm this with us before applying for the program.
Nepal is home to an array of Buddhism practices. You can find beautiful and serene monasteries built by Tibetan refugees and other ethnic groups in Nepal. Many monks, both Nepalese and Tibetans, live in the monastery and learn Buddhist scriptures in the Tibetan language, resulting in the seldom opportunity to learn English. However, as interactions with English speaking people have increased, the Rinpoches (higher monks) have realized that without learning English, the monks will not be able to interact and spread the teachings of the Buddha.
Volunteer in the Teaching Buddhist Monks English in Nepal Project now and immerse yourself into Nepalese culture, monastery life and the Buddhist religion. As you help these monks gain invaluable skills, you will learn from them in return. This is the perfect project for those looking to learn more about the Buddhist religion, traditions and practices.
Project/Volunteer's Life
As a volunteer in Nepal teaching English to Buddhist monks in a monastery, you will primarily work as English instructors to the monks. You'll teach English to monks for 2-4 hours a day. You are encouraged to hold discussions and debates as this will greatly increase the ability grasp and speak English. Daily activities may include:
Teaching English grammar, vocabulary and pronunciation
Planning lessons and curriculum development
Leading classes to teach basic conversational English
Organizing extracurricular activities such as dancing, games, music, sports, art, etc.
Helping monks with their homework
Assisting monastery administrations
Fundraising for the monastery
Helping around the monastery
Note: in addition to teaching, you'll also be allowed to sit, observe and learn about the rituals, prayer ceremonies and meditations inside the monastery and learn about Buddhism from the monks.
Skills and Qualification
No teaching experience or skills are required, but each volunteer in the teaching English to Buddhist monks project in Nepal should have strong English skills, both written and verbal. You should also respect the monks at all times as well as the prevailing culture inside and outside the monastery.
Conservation Project Nepal (Chitwan)
Nepal is one of the poorest countries in the world and most Nepalese energy and construction requirements are met by cutting down trees for firewood, building houses and construction work. Because of this, huge swathes of forests disappear daily. Most Nepalese lack education to realize the long-term damage this may cause. As a result of deforestation, landslides and flooding occur due to the lack of trees to protect the soil, affecting the lives of many. Rustic Volunteer is now partnering with local nonprofit environmental organizations to promote conservation and improve Nepal's environment. As a volunteer in the conservation project in Nepal, you'll work in a community nursery by planting seedlings, nurturing their growth and distributing the trees to the community for no cost. This is a perfect project for environmentalists and those who are committed to conservation.
Project/Volunteer's Life
As a volunteer in the conservation project in Nepal, you can participate in a variety of projects to help improve the environment and Nepalese villages. Activities may include:
Planting and nurturing seedlings, which are later distributed for free to surrounding villages and in various parts of Nepal.
Digging
Preparing nursery beds
Sowing seeds
Weeding
Trimming
Pruning
Filling plastic bags
Watering
Planting
Collecting seeds
Replanting
Eliminating diseased trees
Inventory of fauna and flora depending on the season
Helping with any work related to the nursery
Rustic Volunteer presently supports a small orphanage and a school in Chitwan. So, volunteers working in the conservation project can teach English or work in the orphanage in their free time. This can be arranged upon your arrival to Nepal.
Skills and Qualification
To volunteer in this project you should feel passionate about saving the environment. You should also be flexible, patient, hardworking, caring, motivated and open minded to new cultures. You'll also have to be in physically good condition, as the work can get physical. Other than that, no specific skills or qualifications are required.
Photojournalism Project (Kathmandu)
Rustic Volunteer now offers a unique, creative and culturally eye-opening photojournalism project. This is an extraordinary opportunity for aspiring photographers to gain professional experience while fully experiencing a beautiful country. As a volunteer in the photo journalism project in Nepal, you will have the chance to work alongside an experienced professional, enhance your skills and truly learn about Nepal's beauty and culture. If you have the time, resources and dedication to finish a final report, you may also participate in this project as an intern.
As a volunteer in the photojournalism project in Nepal, you can snap your way through the country as you capture panoramic mountainous views, colorful festivals, daily Nepalese life, local markets and fascinating culture. Volunteers can creatively document the magical beauty of Hindu and Buddhist temples, the Kathmandu Valley and the traditional on-goings of Nepal's capital city. Not only will you completely immerse yourself into Nepal's culture, you will help to share the stunning characteristics of the country with others.
Project/Volunteer's Life
The aim beyond pictorial documentation of Nepal and the project is to develop volunteer skills as photojournalists. An experienced professional who works for a respected local newspaper will mentor each volunteer/intern. Volunteers will work with their supervisor to agree on a schedule and travel to photo locations. Most volunteers will use a motorcycle to navigate through the streets of Kathmandu and its surroundings. A typical day may include:
Meeting with supervisor
Traveling to festivals, events, cultural activities, parks, scenery, etc. to effectively capture the beauty and meaning behind Nepal's nature and culture.
Practicing all aspects of photojournalism
Meeting and interacting with locals and understand Nepalese culture
Assisting supervisor on all projects
Sharing ideas and creativity
Rustic Volunteer presently supports a small orphanage and a school in Chitwan. So, volunteers working in the conservation project can teach English or work in the orphanage in their free time. This can be arranged upon your arrival to Nepal.
Please note: cameras are not provided..
Skills and Qualification
Volunteers must bring a camera, know how to use it and be familiar with modern photojournalism. Volunteers must be easy going, motivated, flexible, open-minded, creative and ready for anything.
get more information
Meals/Accommodations
Rustic Volunteer arranges volunteer meals, accommodations and strong field supervision for the duration of projects and optional travel packages. In Nepal, most volunteers stay with a host family. Host family accommodations are simple and clean homes in safe neighborhoods. Volunteers usually have a private bedroom, but occasionally rooms will be shared with a same-gender volunteer. Our host families are well screened and are respected members of their communities who live in affluent neighborhoods. Most of our host families have experience with hosting international volunteers. Host family stays are a great chance for cultural immersion and exchange.
Accommodations could also be with a home base or a hostel. Our home base is a permanent home established for our volunteers in Kathmandu. Our home base in Nepal is located in a very safe and clean neighborhood. There are internet cafés, restaurants, local bus stations, a police station and supermarkets near our home base. The home base provides a comfortable place to relax after a long day. There are several bedrooms (which may be shared with a same-gender volunteer) and community areas. There is a shared kitchen, television and shared bathrooms, which have running water and "western-style" toilets. Hostels are located in safe and secure neighborhoods and are chosen for their proximity to projects.
Volunteers receive three local meals per day (breakfast, lunch and dinner). We can provide vegetarian meal options, but needs must be detailed in a volunteer's application. Snacks and beverages outside of mealtimes are not provided; however, there are local restaurants and grocery stores near the residences in which we place volunteers.
Rustic offers unparalleled field support to volunteers to ensure a safe and rewarding experience. There are many layers of support for you. The most important support comes from our country coordinator/field staff. The secondary support comes from the host project staff and members of host families and/or a home base staff. Volunteers will have access to our country coordinator's mobile number and they are available 24/7. Throughout the volunteer project, our local staff stays in contact with volunteers either with face-to-face visits or via email/telephone. Our field staff will visit regularly (every 2-4 weeks) to make sure things are going well and as planned. However, if placement is far from our local offices, staff members will stay in touch via email/ phone. Volunteers are also welcome to stop in the offices at any time.
Specific details regarding accommodations, food and contact details for our local coordinator will be provided in personalized volunteer placement documentation prior to arrival.
get more information
Project Locations: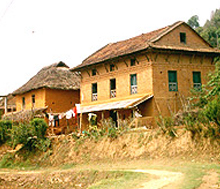 Rustic Volunteer projects are available in Kathmandu (capital city of Nepal with places of great tourist attractions like Thamel, Patan, Swaymbhu, etc.), Chitwan (Royal Bengal Tiger and the Great One Horned Rhino) and Pokhara (a small valley that is famous for lakes, spectacular views of Himalayas and for a starting point of many famous treks). All towns have shops, banks & internet cafes nearby. Nepal is renowned for its spectacular landscape and deep, exotic culture. It's full of contrasts: from traditional culture and history including houses made of bamboo, mud and cow-dung to modern infrastructure and much of the amenities you would expect from a city
Major FAQs - Nepal
Application Process
Arrival Information
Visa
Health & Safety
Vaccination
Money Matter
Communication
Climate of Nepal
Materials to Bring
Gift for Host Family and Project
get more information