Volunteering in Kenya and experience this opportunity of a lifetime! What better place to volunteer than the original safari destination? Kenya is overflowing with excitement for explorers, adventurers and travelers with its tropical beaches, coral reefs, snow-capped mountains, unparalleled wildlife, enchanting landscapes and rich culture. Rustic Volunteer invites you to volunteer in Kenya, explore a diverse culture and ultimately, enrich the lives of those who desperately need your help.
Through Volunteering Kenya programs, you will have the unique opportunity to serve local communities by working in schools, orphanages, clinics/hospitals or with local organizations. Take advantage of the endless opportunities to explore this East African adventure-land which is revered by anthropologists as the cradle of humanity.
Begin your African journey and email us now! We will be happy to send you more information so you can soon travel to an astonishing country and improve the lives of those you touch.
get more information
Fees and Dates
Start Dates:
All volunteer programs start on the second and fourth Monday of each month.
If you are tired of expensive volunteer programs but want to make a positive contribution in the world, look no further! Rustic is dedicated to offering high-quality, well-organized and meaningful programs at the most affordable price in the United States. We work hard to keep costs as low as possible, focusing on the effectiveness of our projects, the safety of our volunteers and the quality of participant experiences. We currently offer the most competitive price possible in today's market including an application fee (of $299) AND a small weekly fee as follows:
| Weeks | All Projects |
| --- | --- |
| 1 Week | $150 |
| 2 Weeks | $250 |
| 3 Weeks | $350 |
| 4 Weeks | $450 |
| 5 Weeks | $550 |
| 6 Weeks | $650 |
| 7 Weeks | $750 |
| 8 Weeks | $850 |
| 9 Weeks | $950 |
| 10 Weeks | $1050 |
| 11 Weeks | $1150 |
| 12 Weeks | $1250 |
Mandatory Comprehensive Travel Insurance $3.49/day
Program Fees Cover
Accommodation (host family)
Food ( local food 3 times a day)
Airport Pick up/Transfer
Program Orientation
In-country support
Personalized project
Pre-departure information
Certificate of completion
Fundraising ideas and letters
Discount for returning volunteers
Program Fees Exclude
Visas
Airfare
Personal expenses on soft drinks and foods
Daily transportation
Airport return transfer
The program fees will cover expenses that will begin on the first day of the program to the last day of the program. If you arrive before the first day of the volunteer abroad in Kenya program or you decide you stay beyond your program's last day, you will be responsible for the additional expenses
get more information
Volunteer Programs in Kenya
Work in an Orphanage (Nairobi )
Kenya has an increasing number of orphans who have been affected by diseases such as HIV/AIDS, poverty, abuse and abandonment. Orphanages need your help now to help care for these children and provide them with the healthy childhood that every child deserves. Rustic Volunteer is currently working with more than 13 local orphanages in Kenya. If you are passionate about children and enthusiastic about helping others, we invite you to volunteer in an orphanage in Kenya and help provide care and support to underprivileged children. Help is needed to improve living conditions and provide educational activities for the children. This is a rewarding opportunity for Rustic volunteers/travelers to work on the front lines in Kenya and feed and provide assistance to these forgotten little ones. Volunteer in an orphanage in Kenya and brighten the lives of these children. You will have an unforgettable experience.
Project/Volunteer's Life
As a volunteer/traveler in Kenya working in an orphanage, responsibilities will vary depending on individual skills and interests and the needs of the orphanage, but may include:
Teaching English
Teaching other subjects such as math, science, health, etc.
Helping home-schooled children in the orphanage
Assisting/educating children in areas of personal hygiene (i.e. brushing and flossing teeth, etc.)
In the afternoons/evenings, organizing activities, games, sing-a-longs and dances as well as other creativity-based activities to teach the children
Helping children with homework
Observing academic progress
Playing with children
Helping orphanage staff with administrative tasks
Cleaning and helping children with daily chores
Helping to maintain orphanage garden
Cooking and helping local staff during meal times
Assisting local staff with fundraising and grant proposals
Skills and Qualification
There are no specific skills or qualifications needed to volunteer in the orphanage project in Kenya. However, volunteers are expected to be passionate about working with children. You should also be flexible, patient, caring and open minded.
Teaching English ( Nairobi)
Volunteer as an English teacher in Kenya and help enhance the futures of your students! There is a lack of teachers in most schools located in the outer city areas and villages. The Kenyan education system recently went through major changes and free education is now provided to the primary level. More students are now going to school, is there is a shortage of teachers in the public schools. To fill this gap, your contribution as a volunteer teaching English would be highly appreciated by Kenyans. Rustic Volunteer currently partners with local schools to place volunteers in a number of roles from teaching formal to informal English programs in Kenya. This is a great opportunity to travel to an astonishing country while gaining professional experience and enriching Kenyan education.
School will remain closed in Kenya in Apr-May and Aug-Sep. Volunteers can teach in orphanage during this time.
Project/Volunteer's Life
As a volunteer teaching English in Kenya, your job responsibilities may vary depending on the needs of each school (secondary or primary). The schools will provide the curriculum and teaching materials. Volunteers work mostly as an assistant to the main English teacher. Daily activities may include:
Teaching basic English to the children
Teaching other subjects such as math or science
Playing with the children
Organizing extracurricular activities such as music, dancing, sports, art, games, etc.
Teaching life skills such as painting, sewing, cooking, etc.
Promoting nutrition and health
Helping to fundraise for schools
Working on curriculum development
Assisting school administrations with daily tasks
Helping with basic maintenance of schools
Aiding local school staff in any way possible
Skills and Qualification
There are no specific skills or requirements necessary to volunteer teaching English in Kenya. You do not need previous teaching experience or a degree in teaching to enroll in the project. However, you should be a fluent English speaker (if you're not a native English speaker) and be flexible, as working in Kenya will be very different from working back home.
Health Care Project (Nairobi)
This is the perfect project for healthcare/medical students and professionals to gain international work experience and most importantly, help Kenyans live healthy and productive lives. There is an extreme lack of manpower and resources in the local hospitals, which are located in the outer city areas and villages. For this reason, Rustic Volunteer invites you to volunteer in the healthcare/medical project in Kenya to work alongside doctors, nurses and local staff. We partner with local hospitals in Kenya to place volunteers who want to share their knowledge, time, skills and talents with patients who may not otherwise have access to healthcare. Participating as a health care volunteer opens tremendous opportunities for volunteers to experience new opportunities in their lives and careers. In addition, volunteers have the unique opportunity to immerse themselves into another culture and positively contribute to communities where the need is the greatest.
Project/Volunteer's Life
Each volunteer in Kenya working in the community health/medical project will have varying responsibilities and tasks and volunteer projects will depend on one's qualifications and certifications as a medical professional. Duties may include:
Helping with routine check-ups
Assisting in the lab
Helping patients with physical therapy
Working in rehabilitation centers
Providing basic first aid and care
Shadowing health workers, therapists, nurses or doctors
Working with organization administrations
Helping in the pharmacy
Recording patient details
Measuring vital signs such as blood pressure, height, weight
Distributing medicines
Assisting with medical procedures
Helping incoming patients
Performing and assist in the in-day emergency room
Partnering with local doctors
Qualified doctors can diagnose and treat patients
Skills and Qualification
Rustic Volunteers/travelers interested in joining the volunteer health program must possess a health care certification such as an ID as a medical student, EMT or paramedic certification, or nursing or physician's credentials. Medical volunteers without credentials are not allowed to work in this program because of the potential risk. The hospitals require a copy of your resume, clearly stating credentials and education before your arrival to the project.
HIV/AIDS Awareness
Every years AIDS claims the lives of thousands of Kenyan children and adults. It is estimated that about 900,000 Kenyans are infected with HIV/AIDS and sadly, that number is expanding rapidly. In collaboration with local groups, Rustic Volunteer has established HIV/AIDS projects seeking to foster awareness among the local communities. Rustic Volunteer is urgently asking for volunteers to step up and promote awareness against the deadly disease. As a volunteer in the HIV/AIDS Awareness Project in Kenya, you will work alongside local experts and engage in training, education and demonstration activities to increase HIV/AIDS awareness in the local Kenyan population. This project is very challenging, however volunteers gain the opportunity to help save lives and prevent further human disaster in this country.
Project/Volunteer's Life
As a volunteer in the HIV/AIDS project in Kenya, your responsibilities will vary with your education, skills, experience and qualifications. While partnering with local clinics and organizations, daily volunteer activities may include:
Counseling
Promoting support groups
Helping with the feeding program (if the center has one)
Visiting patients and their families
Participating in public awareness
Teaching patients about health, nutrition and sanitation
Keeping records of patients
Providing educational trainings to increase and generate awareness on HIV/AIDS and stop it from spreading
Assisting organizations establish various community outreach programs
Fundraising
Helping local organizations and clinics with administrative tasks
Teaching English, business skills and life-skills to affected families
Skills and Qualification
There are no specific skills or qualifications needed to join the HIV/AIDS awareness project. However, volunteers are expected to be flexible, patient and have passion and love for people. You should also be open-minded and flexible during the project.
Meals/Accommodations
Rustic Volunteer arranges volunteer meals, accommodations and strong field supervision for the duration of projects and optional travel packages. In Kenya, most volunteers stay in our home base, a permanent home established for our international volunteers. Our home base in Kenya is located in a very safe and clean neighborhood. There are internet cafés, restaurants, local bus stations, a police station and supermarkets near our home base. The home base provides is a comfortable place to relax after a long day. There are several bedrooms (which may be shared with a same-gender volunteer) and community areas. There is a shared kitchen and shared bathrooms, which have running water and "western-style" toilets.
Depending on the influx of volunteers, accommodations could be with a host family. Host family accommodations are simple and clean homes in safe neighborhoods. Volunteers usually have a private bedroom, but occasionally rooms will be shared with a same-gender volunteer. Our host families are well screened and are respected members of their communities who live in affluent neighborhoods. Most of our host families have experience with hosting international volunteers. Host family stays are a great chance for cultural immersion and exchange.
Volunteers receive three local meals per day (breakfast, lunch and dinner). We can provide vegetarian meal options, but needs must be detailed in a volunteer's application. Snacks and beverages outside of mealtimes are not provided; however, there are local restaurants and grocery stores near the residences in which we place volunteers.
Rustic offers unparalleled field support to volunteers to ensure a safe and rewarding experience. There are many layers of support for you. The most important support comes from our country coordinator/field staff. The secondary support comes from the host project staff and members of host families and/or a home base staff. Volunteers will have access to our country coordinator's mobile number and they are available 24/7. Throughout the volunteer project, our local staff stays in contact with volunteers either with face-to-face visits or via email/telephone. Our field staff will visit regularly (every 2-4 weeks) to make sure things are going well and as planned. However, if placement is far from our local offices, staff members will stay in touch via email/ phone. Volunteers are also welcome to stop in the offices at any time.
Specific details regarding accommodations, food and contact details for our local coordinator will be provided in a personalized volunteer placement documentation prior to arrival.
get more information
Project Locations: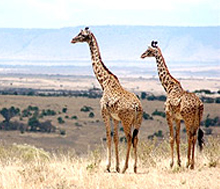 Rustic Volunteer Kenyan projects are available in the town of Nairobi and Watamu. Nairobi is the nation's capital and is famous for its proximity to safaris and national parks. Watamu is a beach town on the coast of the Indian Ocean and is known for fishing, snorkeling and diving. Kenya's multicultural metropolitan cities are renowned for their deeply-rooted cultural atmosphere where visitors are always welcomed. It's full of contrasts from traditional culture and history to modern infrastructure and the amenities you would expect from a modern city. Volunteers can organize several excursions during and after the project to visit attractions. There is a tourist infrastructure already in place that the volunteers can use during weekends and free time such as national parks, markets, museums, restaurants, nightclubs, tourist villages, mausoleums, art galleries, golf courses, crocodile farms, nature trails, hotels, Bombolulu workshops and much more.
Major FAQs - Kenya
Application Process
Arrival Information
Visa
Health & Safety
Vaccination
Money Matter
Field Support and Supervision
Climate of Kenya
get more information