Volunteer in India for the exotic experience of a lifetime! India is the perfect volunteer and travel destination offering an eclectic mix of culture, history and nature. The country is full of contrasts as it is home to some of the richest citizens as well as some of the poorest and some of the world's oldest buildings alongside some of the newest architectures. Ancient cultures and social systems are jammed up against modern methods and morals. The bustle of Delhi and other modern cities are juxtaposed with rural traditions that have continued for centuries. As you volunteer in India, you will have the unique opportunity to experience every aspect that India has to offer.
Rustic Volunteer's India volunteering programs allow you to choose from a variety of programs to perfectly match your skills and interests. In addition, Rustic Volunteer offers a four-day yoga class. Whether you choose to work in an orphanage, hospitals/clinics, schools, with local organizations or at-risk children, you will undoubtedly improve lives of some of the most deprived people in the world while engaging in a life-changing experience for yourself.
Email us now so we can help you begin the adventure of a lifetime. The sooner you contact us, the sooner your Indian adventure can become a reality.
get more information
Fees and Dates
Start Dates:
All volunteer programs start on the first and third Monday of each month.
If you are tired of expensive volunteer programs but want to make a positive contribution in the world, look no further! Rustic is dedicated to offering high quality, well-organized and meaningful programs at the most affordable price in the United States. We work hard to keep costs as low as possible, focusing on the effectiveness of our projects, the safety of our volunteers and the quality of participant experiences. We currently offer the most competitive price possible in today's market including an application fee (of $299) AND a small weekly fee as follows:
Mandatory Comprehensive Travel Insurance $3.49/day
Language and Culture Program fee $250
Program fee covers

Accommodation
3 meals a day
Donation to project
In-country office expenses
Field support
Project coordination

Program fee does not cover

International flights
Passport and visa fees
Immunizations
Personal food and beverages
Entertainment
Local transportation
Laundry
Communication (telephone, internet)
Personal items
get more information
Volunteer Programs in India
Teaching English (Delhi, Agra and Jaipur)
English is one of the official languages of India. Despite this, many people struggle to read, write and speak proper English. This is especially true in rural and poorer areas where schools lack adequately trained teachers and efficient resources. Sadly, without strong English skills, young people have a very low chance to obtain well paying jobs or acceptance into respectable universities. With increased international trade and tourism, it's become even more important to learn English at an early age in India. Volunteer in India teaching English and help these young Indians who come from poor backgrounds broaden their future opportunities. Your time, dedication and effort will pay off greatly as you enrich the lives of others and immerse yourself into an enchanting and beautiful culture.
School will remain closed in India from 15 May to 30 June. The project is not available then but volunteers can teach in orphanage or in slum project.
Project/Volunteer's Life
As a volunteer teaching English in India, you will most likely teach in a government school. Besides following the official curriculum, you're encouraged to hold debates and discussions as well as engage the children in creative activities that will increase their capacity to comprehend and speak in English. Daily activities may include:
Teaching basic English to the children
Teaching other subjects such as math or science
Playing with the children
Organizing extracurricular activities such as music, dancing, sports, art, games, etc.
Teaching life skills such as painting, sewing, cooking, etc
Promoting nutrition and health
Helping to fundraise for schools
Working with local teachers on curriculum development
Assisting school administrations with daily tasks
Helping with basic maintenance of schools
Aiding local school staff in any way possible
Skills and Qualification
You should be fluent in English, both spoken and written, although you may be a non-native English speaker. You should also have a passion to teach and help your students. Volunteers should be good role models, flexible, patient, caring, creative, responsible and open-minded.
Volunteer in an Orphanage (Delhi and Jaipur)
While India is developing and the standard of living is slightly improving, many people continue to live amongst grinding poverty. Many orphaned children continue to roam the streets of major cities and very little government assistance exists to provide them with safe and healthy environments. There are many orphanages raising these children and helping them avoid life on the street, but the financial conditions of many orphanages are poor and they urgently need volunteers. The orphanages work hard to provide adequate accommodation, food, clothing and education to the children. As a volunteer working in an orphanage in India, you can help these orphanages take care of the children and improve their childhoods. You will contribute in the development of the children, provide valuable love and friendship and make them capable of procuring brighter futures. This is the perfect volunteer project to change the lives of destitute children for the better while immerging yourself into India culture and exploring a beautiful country.
Project/Volunteer's Life
As a volunteer in the orphanage in India, responsibilities will vary depending on individual skills and interests and the needs of the orphanage, but may include:
Teaching English (3-4 hours a day)
Teaching other subjects such as math, science, health, etc.
Helping home-schooled children in the orphanage
Assisting/educating children in areas of personal hygiene (i.e. brushing, flossing their teeth)
In the afternoons/evenings, organizing activities, games, sing-a-longs and dances as well as other creativity-based activities to teach the children
Helping children with homework
Observing academic progress
Playing with children
Helping orphanage staff with administrative tasks
Cleaning and helping children with daily chores
Helping to maintain orphanage garden
Cooking and helping local staff during meal times
Assisting local staff with fundraising and grant proposals
Skills and Qualification
There are no skills or qualifications required to volunteer in the orphanage project in India. However, you should have a passion to help the children and be flexible, responsible, open minded, caring and patient.
Women Support Project (Jaipur)
In recent years, India has seen the economy expand rapidly. This has led to improvements in many different sectors. Yet, gender empowerment and treatment of women and girls still remains a major problem. Lingering poverty, social division and superstitious beliefs victimize thousands of women and young girls in India. Many of these women are both poor and illiterate. The project is aiming to help the women through education, awareness and micro-finance project. Our goal is to make women self-sufficient. This will in turn lead to whole family her family benefiting, including the children. The project is a unique chance to observe the process of how handmade paper bags are produced, stitched and tailored. In addition, volunteers can also participate in teaching at a nearby school which serves disadvantaged children. Generally, morning our volunteers teach these children and in the afternoon help in making these handmade items and learn about the women in India.
Project/Volunteer's Life
Many poor Indian women are uneducated, lack direction and do not know the finer skills of marketing their own products. As a volunteer in the women's support project in India, your responsibilities will vary with your education, skills, experience and qualifications. While partnering with local organizations, daily volunteer activities may include:
If you know some arts and techniques to make handicrafts and other materials, teaching the women
Learning about their capabilities
Teaching them techniques to set up their own shops and sell their products
Running English language classes for children and youth
Helping organizations and women's groups with administrative and organizational tasks
Skills and Qualification
No specific skills or qualifications are required to join this project. However, volunteers must have enthusiasm to change the lives of women in Indian for the better. You must also be patient, flexible and open-minded, as working conditions and people's mentality in India will vary from what you're used to back home.
HIV/AIDS Projects (Delhi)
The effects of HIV/AIDS have devastated many families in India and scarily, the rate of infection is continuing to rise. Many governmental and non-profit organizations have begun campaigns to stop the rate of infection and death, but the need for increased education and prevention is still vital. Campaigns are trying to take a holistic approach to change the lifestyles of people and prevent further infection. Rustic Volunteer is partnering with local organizations and clinics to support these efforts, but needs you to volunteer! Volunteer in the HIV/AIDS project in India and help these campaigns educate the people of India against HIV/AIDS and help treat infected patients so they may live happy and productive lives. As you change and potentially save the lives of others, you will have the beautiful opportunity to explore India and all it has to offer.
Project/Volunteer's Life
As a volunteer in the HIV/AIDS project in India, your responsibilities will vary with your education, skills, experience and qualifications. While partnering with local clinics and organizations, daily volunteer activities may include:
Counseling
Teaching English
Teaching business and life skills
Helping patients with profitable skills such as sewing, wood-working, candle-making and tailoring
Promoting support groups
Visiting patients and their families
Participating in public awareness Teaching patients about health, nutrition and sanitation
Keeping records of patients
Providing educational trainings to increase and generate awareness on HIV/AIDS and stop it from spreading
Assisting organizations establish various community outreach programs
Fundraising
Helping local organizations and clinics with administrative tasks
Skills and Qualification
There are no specific skills or qualifications needed to join the HIV/AIDS awareness project. However, volunteers are expected to be flexible, patient and have passion and love for people. You should also be open-minded and flexible during the project.
Healthcare Project (Delhi)
India has some of the finest healthcare facilities in the world and top quality doctors and surgeons, yet many people continue to be denied proper healthcare due to extreme poverty. The level of poverty and the size of the population in India make the task of creating affordable healthcare system for all very difficult. Today in major cities of India, there are hospitals with air-conditionings and first class treatment facilities, while the very poor line of hours to get basic treatments from local doctors that can't spend more than 2 minutes looking at a patient. This is the ideal project for medical professionals to gain valuable international experience in the medical field, as you will learn from local medical professionals and experience healthcare system of India. In addition, as your improve the health of others, you will have free time to explore India and immerse yourself into its daily life and culture. In Delhi, we work with more than 5 hospitals and clinics.
Project/Volunteer's Life
Each volunteer in India working in the health/medical project will have varying responsibilities and tasks and volunteer projects will depend on one's qualifications and certifications as a medical professional. Duties may include:
Helping with routine check-ups
Assisting in the lab
Helping patients with physical therapy
Providing basic first aid and care
Shadowing health workers, therapists, nurses or doctors
Working with organization administrations
Helping in the pharmacy
Recording patient details
Measuring vital signs such as blood pressure, height, weight
Distributing medicines
Assisting with medical procedures
Helping incoming patients
Partnering with local doctors
Qualified doctors can diagnose and treat patients
Medical students are only allowed to shadow local doctors and learn. They will not be allowed to treat patients.
Skills and Qualification
A certification or an ID stating you're a medical professional must be furnished prior to volunteering, as this is strictly a volunteer project for medical professionals. Medical students can also participate by producing an ID or a letter stating they are in the process of acquiring a medical/nursing degree. If you are flexible while volunteering and remain open minded, your time will be rewarding.
Street Children/Youth at Risk (Delhi)
Volunteer in India in the Street Children/At-Risk Youth Program and help to provide love, friendship, shelter, education and stability in children's lives. India has an undeniable dilemma with street children falling into harmful environments, often leading to negative life habits and heartbreaking futures. Many of these children in India are either orphaned due to abuse, neglect, poverty, disease and other reasons. Rustic Volunteer partners with local organizations that work hard to provide support, care and treatment for these children. As a volunteer working with street and at-risk children in India, you can directly make a difference by helping to provide them with the basic necessities every child deserves. Volunteer in this project for the unique opportunity to help these children have brighter, healthier and more prosperous futures. With your support, you can truly make a difference in the lives of these children.
Project/Volunteer's Life
There are a wide variety of activities that volunteers can participate in to improve the lives of these children. Daily activities may vary widely depending on the individual interests of the volunteer as well as the momentary needs of the partner organizations. Sample activities include:
Teaching English
Teaching other subjects such as math, science, health and physical education
Helping children with their homework
Teaching nursery rhymes to really small kids
Organize and lead recreational and artistic activities that enhance learning in a fun manner such as games, dancing, sports, art, music, etc.
Teaching the children life-skills such as gardening, cooking, painting, building, sewing, etc.
Making sure the kids eat properly and help with cooking and serving at meal times
Promoting personal hygiene such as washing, cleaning and wearing clean clothes
Leading courses in performing arts, career development, leadership training and entrepreneurial skills
Helping to run a Day Care Centre providing education and a vegetable garden as an income source
Assisting local administrations with daily tasks
Fundraising
Helping with routine building maintenance, construction, etc.
Skills and Qualification
There are no specific skills or qualifications needed to volunteer in the street children/at-risk youth project in India. However, volunteers are expected to be flexible and patience. You should also have passion and love for children/orphans. You should also be open-minded and flexible during the project as working condition and people's mentality will be very different from what you're used to back home.
Rustic Volunteer's 4-day Yoga Program
People worldwide are full of mounting tensions, but Rustic Volunteer's four day yoga program can help you heal at all levels including the physical, mental, psychophysical, emotional, spiritual and social states. Yoga is the divine and ancient life discipline that has been practiced in India for centuries. Yoga will refresh your mind, rejuvenate and cleanse your body, calm your inner self and increase your strength and vitality.
This program provides an introduction to a variety of yoga practices. In Sanskrit, Ashtanga Yoga it breaks down to "Ashta + anga" where "Ashta" means Eight and "Anga" means limb, meaning Eight Limb path. Ashtanga yoga is based on the yoga philosophy of Patanjali. Yoga began about 5000 years BC as described in Vedic Philosophy. Patanjali composed yoga's history into a Darshan (philosophy) in his book "Patanjal Yoga Sutra." In his book, he describes yoga as having Eight Limbs or an Eight Fold path.
Eight Limbs of Ashtanga Yoga:
1. Yama
Ahimsa - A principle of non-violence
Satya - A principle of Truthfulness
Asteya - A principle of non-stealing
Brahmacharya - Continence / celibacy
Aparigah - A principle of non-possessiveness
2. Niyama
Shoucha - Purity
Santosh - Contentment
Tapa - Austirity
Swadhyaya- Self study
Eshwar Pranidhan- Dedication
3. Asana:
(Yoga Postures / positions) A stable and comfortable posture which helps to attain mental equilibrium.
4. Pranayama:
(Yoga Breathing) Extension and control of breath.
5. Pratyahar:
(Withdrawal of Senses) A mental preparation to increase the power of mind.
6. Dharna:
(Concentration on Object) Concentration of mind on one object and its field.
7. Dhyana:
(Meditation) With drawing mind from all external objects and focusing it on one point and meditating on it.
8. Samadhi:
(Salvation) State of Super bliss, joy and merging individual consciousness in to universal consciousness and union between Jivatman and Paramatman.
Hatha Yoga
Hatha Yoga is known as hatha vidya or the "science of hatha" yoga. The word Hatha comes from combining the two Sanskrit terms "ha," meaning sun and "tha," meaning moon. The word "ha" refers to the solar nadi (pingala) and "tha" the lunar channel (ida). However, when the two components of the word are placed together, "hatha" means "forceful," implying that powerful work must be done to purify the body. Yoga joins the two things together, hence hatha yoga is meant to join together sun energy with moon energy, thus producing balance and greater power in an individual. Hatha represents opposing energies: hot and cold (fire and water, following similar concept as yin-yang), positive and negative. Hatha yoga attempts to balance mind and body via physical postures or "asanas," purification practices, controlled breathing and calming of the mind through relaxation and meditation.
Asanas teach poise, balance and strength and are practiced to improve the body's physical health and clear the mind in preparation for meditation in pursuit of enlightenment. However if an individual has too much phlegm or fat, then purification procedures (Shat Karmas/shuddhi kriyas) are a necessary before undertaking pranayama.
Pranayama (breathing)
The words 'Prana' (life-force) and 'Ayama' (to lengthen or regulate) make up Pranayama. Pranayama seeks to lengthen, control and regulate the breath. In one variation, the Rechak (exhalation), Purak (inhalation) and Kumbhak (retention during normal inhaling and exhaling) are the three regulated parts of the breathing. Pranayama is practiced to develop mental, physical and spiritual strength.
Yoga Nidra
This form of yoga is a state of conscious deep sleep. During the practice of yoga nidra, one appears to be asleep, but the conscious is functioning at a deeper level of awareness. It is sleep with a trace of deep awareness and a state of mind in between wakefulness and dream. Normally when we sleep, we loose track of our selves and cannot utilize this capacity of mind. Yoga nidra enables the person to be conscious in this state and nurture the seed of great will power. Total relaxation of the body help the optimal functioning of the endocrine system, which controls other systems as well. Since mind and body both relax deeply in yoga nidra, total relaxation of all systems happens and their workings are enhanced. On the level of body and mind, yoga nidra can go very deep and the relaxation it brings can relieve stress in both our minds and bodies in a very simple way. Psychosomatic diseases can also be treated in this way with good results.
Project/Volunteer's Life
Volunteers can learn about these different types of yoga and relax with this four-day class, lasting 3-4 hours a day. Activities will involve:
Day1: General Fitness, Astang Yoga, Breathing Exercise, Yoga Nindra and Meditation.
Day2: General Fitness, Son Namasker, Moon Namaskar, Power Yoga (Stretching exercises, Angles exercises and breathing exercises), Meditation and Yog Nindra.
Day3: General Fitness, Astang yoga, Antar Mann control (self conscious and control), Pranayam.
Day4: General Fitness, Hot Yoga and Balancing, Bhumi (Earth) Namaskar, Shat Karma and Meditation.
*Please note there is an additional cost of US $100 per person to participate this course.
Meals/Accommodations
Rustic Volunteer arranges volunteer meals, accommodations and strong field supervision for the duration of projects and optional travel packages. In India, most volunteers stay in our home base, a permanent home established for our international volunteers. Our home base in India is located in a pretty community, in a very safe and clean neighborhood. There are internet cafés, restaurants, local bus stations, a police station and supermarkets near our home base. The home base provides is a comfortable place to relax after a long day. There are several bedrooms (which may be shared with a same-gender volunteer) and community areas. There is a shared kitchen, television and shared bathrooms, which have running water and "western-style" toilets. Orphanage volunteers may stay at their project as many orphanages have special rooms set aside for international and these accommodations are normally shared with a same-gender volunteer.
Depending on the project locations (some part of Delhi, Agra, Jaipur, Rajasthan, and Palampur), accommodations could be with a host family. Host family accommodations are simple and clean homes in safe neighborhoods. Volunteers usually have a private bedroom, but occasionally rooms will be shared with a same-gender volunteer. Our host families are well screened and are respected members of their communities who live in affluent neighborhoods. Most of our host families have experience with hosting international volunteers. Host family stays are a great chance for cultural immersion and exchange.
Volunteers receive three local meals per day (breakfast, lunch and dinner). We can provide vegetarian meal options, but needs must be detailed in a volunteer's application. Snacks and beverages outside of mealtimes are not provided; however, there are local restaurants and grocery stores near the residences in which we place volunteers.
Rustic offers unparalleled field support to volunteers to ensure a safe and rewarding experience. There are many layers of support for you. The most important support comes from our country coordinator/field staff. The secondary support comes from the host project staff and members of host families and/or a home base staff. Volunteers will have access to our country coordinator's mobile number and they are available 24/7. Throughout the volunteer project, our local staff stays in contact with volunteers either with face-to-face visits or via email/telephone. Our field staff will visit regularly (every 2-4 weeks) to make sure things are going well and as planned. However, if placement is far from our local offices, staff members will stay in touch via email/ phone. Volunteers are also welcome to stop in the offices at any time.
Specific details regarding accommodations, food and contact details for our local coordinator will be provided in personalized volunteer placement documentation prior to arrival.
get more information
Project Locations: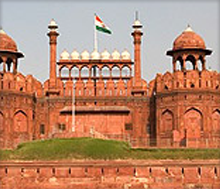 Rustic Volunteer projects are available in Delhi, Agra and Jaipur. Delhi is the capital city of India and known as the "Royal City," home to Red Fort, Lotus Temple, Qutab Minar, Lodhi Gardens. Jaipur is renowned as the "Pink City" of India and home to the Nahargarh Fort and City Palace Museum. Both the cities have great shopping, exquisite cuisine, banks & internet cafes nearby. India is the seventh largest country by geographical area and the second most populous country in the world. Islam, Christianity, Judaism and Zoroastrianism arrived in the first millennium and shaped the region's diverse culture. As a pluralistic, multi-lingual and multi-ethnic society, India is also home to a diversity of wildlife in a variety of protected habitats. It has managed to preserve established traditions while absorbing new customs, traditions and ideas from the Western world and immigrants.
Major FAQs - India
Application Process
Arrival Information
Visa
Health & Safety
Vaccination
Money Matter
Field Support and Supervision
Communication
Climate of India
Materials to Bring
Gift for Host Family and Project
get more information