Go beyond your boundaries and travel to the breathtaking Southeast Asia! As you volunteer and Travel in Cambodia, you will discover an astonishing country and drastically change the lives of others. Cambodia is colorful, charming and picturesque and offers something special for everyone. Its vibrant capital Phnom Penh boasts beautiful landscapes, rich culture and remarkable temple monasteries (wats). Unfortunately, Cambodia is still threatened by poverty and desperately needs your help. Join Rustic Volunteer now and you can join a project to working with children, orphans, schools, clinics/hospitals, local organizations and/or local municipalities. You can explore this stunning country, enjoy its beautiful scenic beauty, engage yourself in rich traditions and ultimately change your life as well as those you help.
To begin this amazing and unique journey, send us an email now for more information. The sooner you inquire for information, the sooner you can help change the world for the better!
get more information
Fees and Dates
Start Dates:
All volunteer programs start on the first and third Monday of each month.
If you are tired of expensive volunteer programs but want to make a positive contribution in the world, look no further! Rustic is dedicated to offering high quality, well-organized and meaningful programs at the most affordable price in the United States. We work hard to keep costs as low as possible, focusing on the effectiveness of our projects, the safety of our volunteers and the quality of participant experiences. We currently offer the most competitive price possible in today's market including an application fee (of $299) AND a small weekly fee as follows:
Duration
Teaching
Orphanage
HIV/AIDS
NGO/
Community Development
Medical project
2 Weeks
$380
N/A
$580
3 Weeks
$489
N/A
$689
4 Weeks
$595
$595
$795
5 Weeks
N/A
N/A
N/A
6 Weeks
$810
$810
$1,110
7 Weeks
N/A
N/A
N/A
8 Weeks
$1,060
$1,060
$1,360
9 Weeks
N/A
N/A
N/A
10 Weeks
$1,280
$1,280
$1,680
11 Weeks
N/A
N/A
N/A
12 Weeks
$1,460
$1,460
$1,860
Mandatory Comprehensive Travel Insurance $3.49/day
Program Fees Cover:
Accommodation (volunteer house or host family)
Food (local food 3 times a day)
Airport pick up (arrival)
Program Orientation
In-country support
Personalized project
Pre-departure information
Certificate of completion
Fundraising ideas and letters
Discount for returning volunteers
Program Fees Exclude:
Visas
Airfare
Personal expenses, soft drinks and snack/extra food
Daily transportation expenses
Airport return transfer
get more information
Volunteer Programs in Cambodia
Work in an Orphanage
Orphaned children have suffered in Cambodia due to poverty, conflict, abuse, disease and abandonment. Sadly, UNICEF estimates Cambodia has around 100,000 orphans, but orphanages lack human and financial resources and receive very little governmental assistance. As a volunteer in Cambodia working in an orphanage, you can directly provide light in these children's lives. Rustic Volunteer works with local organizations and international efforts to provide a home, food and education for these orphaned children. By working together, initiatives are in action to help children survive and live healthy and productive lives in Cambodia. Be a part of this wonderful cause, enrich the lives of orphans and provide them with brighter futures. This program is the perfect opportunity for volunteers looking at opportunities to share their love, passion and skills with these very-unfortunate children who desperately need and deserve it.
Project/Volunteer's Life
As a volunteer/traveler in Cambodia working in an orphanage, responsibilities will vary depending on individual skills and interests and the needs of the orphanage, but may include:
Tutoring (mostly teaching English, but may include other subjects such as math, science, health, etc.)
Helping home-schooled children in the orphanage
Assisting/educating children in areas of personal hygiene (i.e. brushing, flossing their teeth)
In the afternoons/evenings, organizing activities, games, sing-a-longs and dances as well as other creativity-based activities to teach the children
Helping children with homework
Observing academic progress
Playing with children
Helping orphanage staff with administrative tasks
Cleaning and helping children with daily chores
Helping to maintain orphanage garden
Cooking and helping local staff during meal times
Skills and Qualification
There are no specific qualifications needed to volunteer in the orphanage project in Cambodia. However, volunteers are expected to be flexible and patient. You should also have a passion and love for orphans.
English Teaching in Rural school
Volunteer in Cambodia teaching English and help widen opportunities for local children! Due to growth in tourism, international trade and the internet, there is an increasingly high demand for English-speaking Cambodians. Because of this, children are put under pressure to learn English, but state and community schools lack resources and qualified teachers to teach the language properly. Rustic Volunteer's teaching English program in Cambodia has collaborated with local schools to offer free English lessons (mostly conversational English) to poorer children who would not otherwise be able to afford it. By working in the English-teaching program in Cambodia, you instantly open doors for your students, personally and professionally. You will help to improve their English reading, writing and conversational skills. This program is the perfect opportunity for volunteers who are looking to share their time, skills and compassion with less fortunate children, all while exploring a beautiful country.
School will remain closed in Cambodia for 2 weeks in April and whole of August and September. The project is not available then.
Project/Volunteer's Life
Each volunteer English teacher in Cambodia will work in a public school. You will mostly teach English at the primary, secondary or high school level, but may also be asked to participate in additional activities. Examples of activities may include:
Teaching basic English to the children
Assisting the main English teacher with lessons and activities
Teaching other subjects such as math or science
Playing with the children
Organizing extracurricular activities such as music, dancing, sports, art, games, etc.
Teaching life skills such as painting, sewing, cooking, etc.
Promoting nutrition and health
Helping to fundraise for schools
Working with local teachers on curriculum development
Assisting school administrations with daily tasks
Helping with basic maintenance of schools
Aiding local school staff in any way possible
Skills and Qualification
There are no specific qualifications needed to teach English in Cambodia. However, volunteers interested in participating in this program should have a passion for teaching, a love for children and be willing to share their time, energy and compassion.
Health Projects
Volunteer in the medical/healthcare project in Cambodia and gain professional experience, explore Southeast Asia and most of all, promote quality healthcare. Hospitals and clinics located in and around Cambodia's major cities lack adequate staff and resources. In effect, knowledgeable and able-bodied volunteers are in great demand. Rustic Volunteer collaborates with local hospitals and clinics to give volunteers the opportunity to dedicate their time and energy to those without easy-access to medical facilities. Participating in the healthcare volunteer project in Cambodia opens tremendous opportunities for volunteers/travelers to experience new things in their lives and careers. Volunteers have the unique chance to immerse themselves into another culture while making a positive contribution to the community where the need is the greatest.
Project/Volunteer's Life
Duties will greatly depend on the educational backgrounds, skills and personal interests of the volunteers. Each volunteer in the Cambodia Healthcare Project will assist doctors and other already-existing healthcare professionals by carrying out activities such as:
Measuring patients' blood pressure, temperatures, height and weight
Assisting various health camps/posts in distributing medication
Providing health tips
Promoting healthy eating and nutrition
Promoting personal hygiene
Counseling patients
Treating minor wounds and injuries
Keeping and helping to maintain health records
Planning and organizing community health awareness campaigns
Helping hospital/clinic administrations with organization and administrative tasks
Skills and Qualification
Applicants must be able to provide some form of medical certification (medical ID, EMT, paramedic, nursing, etc.) or be a healthcare professional. Due to liabilities, applicants lacking some form of medical training/expertise will be ineligible for this project. All healthcare-related credentials must be provided prior to arrival in-country.
HIV/AIDS Awareness
Volunteer in the HIV/AIDS Awareness Project in Cambodia, where you can explore a beautiful country and truly make a difference in the lives of others. Like many countries in the world, the pandemic resulting from the spread and acquisition of HIV/AIDS is serious and deadly in Cambodia. Volunteer assistance is greatly and desperately needed in many areas of Cambodian HIV/AIDS projects. Rustic Volunteer collaborates with local organizations promoting HIV/AIDS awareness and comforting HIV/AIDS-infected Cambodians. Volunteers/travelers can have the rewarding opportunity to create hope among the sick and assure them that they can live productive lives, even with AIDS (given proper care of their bodies). Volunteer now in the HIV/AIDS Awareness Project in Cambodia and help counsel affected individuals while educating others on the causes, effects and preventions of the disease. The only way to decrease the number of those infected is through education and through your help, you can directly save lives and prevent HIV/AIDS.
Project/Volunteer's Life
As a volunteer in Cambodia working for HIV/AIDS Awareness, you can help in a variety of ways. Volunteer activities may vary depending on skills and interests and the necessities of the local organizations. Examples of activities include:
Providing comfort through counseling
Preparing educational materials
Educating locals about the causes, effects and preventions of HIV/AIDS
Leading support groups
Delivering donated supplies such as food and clothes
Taking care of the sick
Taking sick people to clinics
Administering medication to fight health concerns such as fevers, coughing, diarrhea, etc.
Building or repairing homes of infected families
Building clinics
Skills and Qualification
There are no specific skills or qualifications needed for this particular program. However, volunteers interested in participating in this program should have a passion for educating people and addressing fears about the numerous misconceptions of HIV/AIDS. Participants should also have a passion for caring for others and a willingness to share their time, energy and compassion with these in-need Cambodians.
Work in Local NGOs
If you are looking to gain valuable experience helping others, than volunteer in Cambodia and work with local NGOs! Cambodians have suffered from a violent past, mismanagement and corruption. The government has failed to lead the country towards prosperity and as a result, many are non-governmental organizations (NGOs) are forming to alleviate dilemmas. While many NGOs have been a powerful tool to communities financially and continue to improve living conditions, many have failed to function effectively due to lack of resources. Many NGOs urgently need the help of volunteers to continue efficiently carrying out projects. Recognizing this, Rustic Volunteer is attempting to help many local NGOs and is requesting volunteers who are willing to dedicate their time to poor Cambodians. This program is the perfect opportunity for volunteers to use their personal and professional skills to greatly contribute to communal projects benefiting the greater good.
Project/Volunteer's Life
As a volunteer working with local NGOs in Cambodia, you can offer support to local communal projects. Personal skills and abilities are often taken into account by matching specific skills with local needs. Activities may include:
Supporting and training locals in capacity building tasks such as marketing, fundraising, planning, accounting, management, scouting, etc.
Establishing communication strategies with the different sectors of the community
Developing written and audio/visual communications to foster neighbors to join community centers
Providing technical assistance
Working to solve communal issues through discussion and problem solving
Supporting Schools
Teaching English, health, math, science, nutrition, etc.
Gardening projects
Assisting administrative tasks
Helping on maintenance activities
Organizing events and trainings
Cooking in soup kitchens
Assisting the public library
Helping community centers
Assisting medical staff
Organizing recreational and extracurricular activities
Aiding institutional development and networking with local governments
Skills and Qualification
There are no specific qualifications needed to teach English in Cambodia. However, volunteers interested in participating in this program should have a passion for teaching, a love for children and be willing to share their time, energy and compassion.
Meals/Accommodations
Rustic Volunteer arranges volunteer meals, accommodations and strong field supervision for the duration of projects and optional travel packages. In Cambodia, most volunteers stay either in our guesthouse or with a host family. Our guesthouse in Cambodia is located in a pretty community in a very safe and clean neighborhood in Phnom Penh City (a notable Cambodian tourist city) near the Olympic Stadium and the Orussey Market. There are internet cafés, restaurants, local bus stations, a police station and supermarkets nearby. The guesthouse proves a comfortable place to relax after a long day. There are several bedrooms (which may be shared with a same-gender volunteer) and community areas. There is a shared kitchen, television, hammocks, internet access and shared bathrooms, which have running water and "western-style" toilets.
Host family accommodations are simple and clean homes in safe neighborhoods. Volunteers usually have a private bedroom, but occasionally rooms share a room with a same-gender volunteer. Our host families are well screened and are respected members of their communities who live in affluent neighborhoods. Most of our host families have experience with hosting international volunteers. Host family stays are a great chance for cultural immersion and exchange.
Volunteers receive three local meals per day (breakfast, lunch and dinner). We can provide vegetarian meal options, but needs must be detailed in a volunteer's application. Snacks and beverages outside of mealtimes are not provided; however, there are local restaurants and grocery stores near the residences in which we place volunteers.
Rustic offers unparalleled field support to volunteers to ensure a safe and rewarding experience. There are many layers of support for you. The most important support comes from our country coordinator/field staff. The secondary support comes from the host project staff and members of host families and/or a guesthouse staff. Volunteers will have access to our country coordinator's mobile number and they are available 24/7. Throughout the volunteer project, our local staff stays in contact with volunteers either with face-to-face visits or via email/telephone. Our field staff will visit regularly (every 2-4 weeks) to make sure things are going well and as planned. However, if placement is far from our local offices, staff members will stay in touch via email/ phone. Volunteers are also welcome to stop in the offices at any time.
Specific details regarding accommodations, food and contact details for our local coordinator will be provided in a personalized volunteer placement document prior to arrival.
get more information
Project Locations: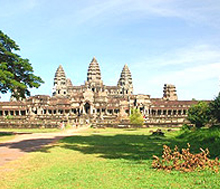 Rustic Volunteer's projects are available in Phnom Penh (known as the "Pearl of Asia" and home to the Royal Palace, Wat Phnom, National Museum and Toul Sleng Genocide Museum) and Pursat (temples of Angkor Wat and the Tonle Sap). All locations have shops, banks & internet cafes nearby. Khmer people are the predominant ethnic group in Cambodia. Khmer or Cambodian is the language of the Khmer people and the official language of Cambodia. It is a pleasure for local people to show volunteers around and give them an idea of country life in Cambodia. Cambodia is an eclectic mix of traditional culture and history with modern urban infrastructure, infused with traditional architectural influence. You will find many of the amenities you would expect from a city.
Volunteers can organize different excursions during and after the project to visit places of interest. There is a tourist infrastructure already in place that volunteers can take advantage of during the weekends. For example, there are markets, internet cafes, temples, boat racing festivals, the Kampot Zoo, waterfalls (rapids), kampot pepper farms, art, restaurants, beaches, hotels and much more.
get more information
Major FAQs - Cambodia
Application process
Arrival Information
Visa
Health & Safety

Please read about health and safety and become aware about what you should and shouldn't do before travelling to Cambodia. Remember, you're priority while traveling abroad should always be safety first. We recommend you to visit the websites listed below. Please read the content thoroughly.

General Health Tips for volunteer in Cambodia

Avoid drinking tap water directly. Do not also drink fountain drinks and ice cubes. Always drink bottled or boiled water or carbonated drinks in cans or bottles.
There have been cases of many fake bottled waters being sold in Cambodia. They don't stand up to the standards. Make sure the seal of the bottle isn't tampered with.
Do not eat hot or very spicy food. They can create stomach upset. Stay away from salads also as leaves not cleaned properly can contain bugs also. Eat for good, clean restaurants and don't try your luck with roadside vendors.
Always use an insect repellent if you find yourself in a mosquito-prone area. But remember, not every place is mosquito-infested and low temperatures in winters (when most tourists come to Cambodia) kill most bugs in the northern plains and hills. .
If traveling in scorching heat, remember to drink enough water, use hats, sunglasses & UV lotions. Beware of the health effects that the mid-day sun may cause, most importantly SUN BURN or DEHYDRATION.
If you need doctor, ask your host family, project staff or our country coordinator. You'll find plenty of helping hand. Most of the towns and villages in Cambodia have pharmacies and chemists, if you want to purchase any medical supplies. The medication and the fees for the doctors are usually low.

Bring drugs you require with you. Although you can find most modern medicines in the drugstores of Cambodia, they can be named differently and come with different level of dosage. Carry a health kit and include medications for upset stomachs, some antiseptic cream, mosquito repellant, sun block, band aids, etc.

Vaccination
Money Matter
Field Support and Supervision
Communication

Volunteers are requested to bring their mobile phone. Once you arrive in Cambodia, you can change sim-card and use it. This is the perfect way to stay in touch with your family and the Rustic Volunteer office in Cambodia. Internet cafes are available in most areas of Phnom Penh.

Climate
Materials to Bring
get more information